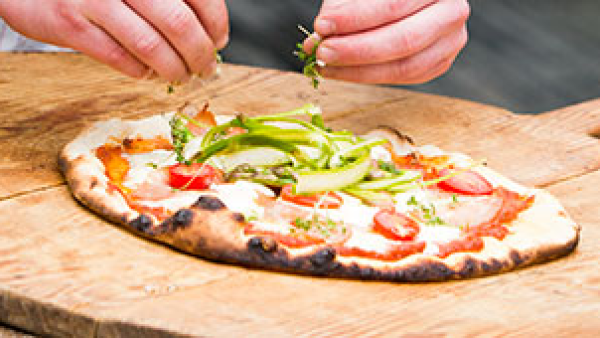 ---
Recipe by: Gorm Wisweh
Serves: 1
---
See from the above video how the Danish Chef Gorm Wisweh makes a crispy Pizza Mortadella Morsø Forno
Break off the chewy ends of the asparagus spears and slice them into thin strips with a peeler or mandoline. 
Lay the strips in cold water and save the rest to put on the pizza. The strips are a crisp garnish for the baked pizza. 
Ensure that your forno is heated through before you start.
Roll out the pizza to approx. 30 cm diameter and spread the tomato sauce over it.
Distribute half the mozzarella over the base, but no more, otherwise the pizza will be too "cheesy". Dot the smoked cheese here and there with the remaining sparagus spears, then the mortadella. Top off with a few drops of olive oil.
Push the fire from the middle of the forno back to the base of the stove in a semicircle, fire up with a few small sticks to spread fire over the roof of the stove, and then blow any ashes away from the middle. 
Now place the pizza in the middle of the forno where the fire was before, with approx 10 cm clearance to the embers.
Bake for 1 minute, then turn the pizza 180 degrees and bake for a further 1 minute. Check the pizza, maybe move it further from the embers and turn it a few more times during the last 2 minutes' baking.
When it is golden and crisp, take out the pizza and wipe the strips of raw asparagus well, then turn them in salt, pepper and a few drops of lemon juice. 
Garnish the pizza with the raw marinated asparagus and plenty of cress. 
1 ball pizza dough, approx. 160g
150 ml tomato sauce
1 fresh mozzarella cheese
2 tbsp smoked cheese
4 slices good quality mortadella (Italian sausage with pistachio nuts)
4 green asparagus stalks
1 lemon
1 tbsp olive oil
1 packet watercress